Welcome to the Gracie Theatre at Husson University, conveniently located in the heart of Bangor, Maine. This beautiful 490-seat performing arts center proudly serves as a cultural center for the Greater Bangor community presenting touring artists from around the globe. The Gracie also serves as an experiential learning platform for students from the New England School of Communications studying digital audio, live sound, sound mixing, and electronics. To learn more about renting the Gracie, or the current season, call us at 207-941-7888.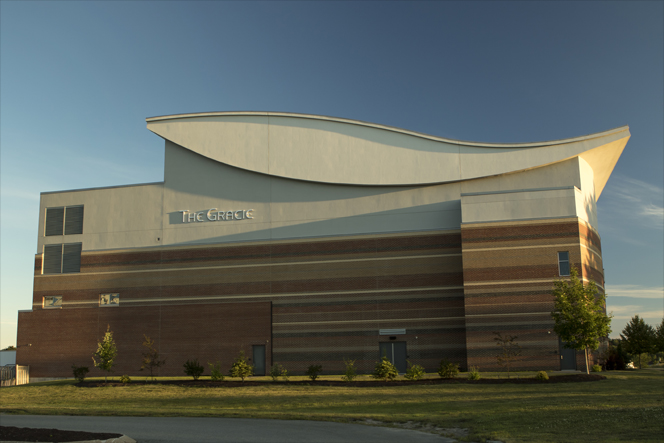 The theatre is named for Grace McCollum, the granddaughter of longtime Husson trustee and friend Hilda Hutchins McCollum. Since its opening in 2010, the Gracie has hosted a wide variety of events including producing two full-scale Broadway-style productions, West Side Story and Tommy, the Musical. The Gracie presents a range of cultural events from concerts to lectures, to touring theatre shows. Legendary bands including The 5th Dimension and Manhattan Transfer, hilarious Off-Broadway smash hit musicals such as Disenchanted and Forbidden Broadway, popular comedians like Paul Reiser and Carolyn Rea, iconic actors including Ed Asner and Molly Ringwald and outstanding classical or ensemble performances featuring international opera star Richard Troxell, NPR host Christopher O'Riley have graced our stage since 2011. We continue to grow and are committed to high quality performers and shows.
The Gracie Theatre hopes to continue to serve the campus and community as a meeting place and is available for rent throughout the year.
Click here for an interactive view: http://youvis.it/pIU8WR
The Gracie's Mission Statement
The Gracie Theatre, in a collaboration with artists, students, and university constituents, is an intimate and inviting performing arts facility that provides hands-on experiential learning and technical support services for the Husson University community through a combination of diverse cultural programming and community engagement.
The Gracie's Vision Statement
The Gracie Theatre will be a national exemplar of experiential learning through its unique identity with a focus on live entertainment and the performing arts.
Read about the Gracie Theatre's Architectural and Acoustic Design– WSDG: Stage Directions Magazine: Gracie Theatre, A Place to Be Heard and Seen